Hello. Here's your morning briefing: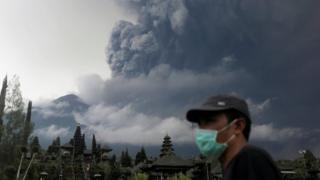 Bali volcano alert at highest level
Bali is on the highest state of alert, with officials warning that the Mount Agung volcano could erupt imminently. The Indonesian island's airport has closed because of the ash being emitted in puffs up to 3,400m (11,150ft) high, leaving thousands of tourists stranded.
A 10km (6-mile) exclusion zone has been set up around the volcano, while the National Board for Disaster Management reports "explosive eruptions" and "weak booms" so far.
Mount Agung is about 70km (43 miles) from the main tourist stretch of Kuta and Seminyak. We'll have the latest from Bali throughout the day. And here's a piece on what it's like waiting for Mount Agung to erupt.
Leeds crash: Five victims named locally
The five victims of a crash that saw a stolen car smash into a tree in Leeds have been named locally. Brothers Ellis and Elliott Thornton, aged 12 and 15, died along with 15-year-old Darnell Harte and 24-year-old Robbie Meerun. Anthoney Armour, a 28-year-old father-of-two whose partner is pregnant with a third child, also died. The crash happened in the Meanwood area of the city, on Saturday night. A vigil took place near the scene on Sunday night. Two 15-year-old boys are in custody on suspicion of causing death by dangerous driving.

Get our morning briefing in your inbox, each weekday morning

Government launches post-Brexit economy plan
With official forecasts suggesting UK growth will slow because of poor productivity, the government is revealing its plans to boost industry. A deal worth up to £1bn with US healthcare giant MSD to open a UK research centre has been announced as part of the strategy. It's expected to create 950 jobs. Business Secretary Greg Clark said Brexit made the government setting out its industrial strategy "even more important".
Could more women soldiers make the Army stronger?
By Hannah Bryce, Chatham House
Despite a range of approaches being tried to attract more women, it seems that the armed forces are still seen as a career for men. Yet there is a struggle to find sufficient recruits, with figures for the Army showing numbers were 4,000 below target. Making the armed forces more appealing to women could go a long way towards addressing this shortfall.
What the papers say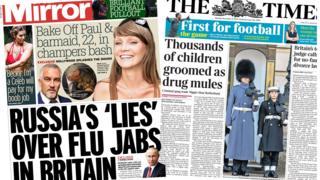 The front pages cover a variety of main stories. The Daily Mirror reports that "Russian cyber units" are spreading "lies" about flu and measles jabs in the UK, in an effort to "erode trust in US and European governments". The Times says criminal gangs are grooming thousands of children to work as drug mules. Meanwhile, the Daily Mail claims ambulance technicians have been sent to respond to 300,000 999 calls in England, instead of paramedics. And the Daily Express predicts a "big freeze" lasting until Christmas.
Daily digest
Parking charges Councils in England make £819m, says RAC
Vaginal mesh Implant operations should be banned, says health watchdog
Putin and power Has Russia "won" the war in Syria?
Worth a listen? Pop acts dominate longlist for BBC's Sound of 2018
If you watch one thing today

Can these ice skaters bring the Koreas together?
If you listen to one thing today

Does technology change how we fall in love?
If you read one thing today

The man who changed his name to Regret
Look ahead
14:00 An 80% complete skeleton of a mammoth, thought to be 15,000 years old, goes on display in Lyon, France, ahead of an auction on 16 December.
19:30 The shortlist for the 2017 BBC Sports Personality of the Year is announced live on BBC One's The One Show.
On this day
1990 John Major becomes Conservative leader of the Conservative Party – and the next prime minister – when his rivals drop out of the contest to replace Margaret Thatcher.
From elsewhere
What happens if China makes first contact? (The Atlantic)
The strange and gruesome story of the Greenland shark (New Yorker)
Barry Humphries finally lets the mask slip (Sydney Morning Herald)
Ten ways to save money this Christmas (Guardian)
Read more: http://www.bbc.co.uk/news/uk-42122202