A young woman from Perth has declared next month to be Weigh Free May. I am so in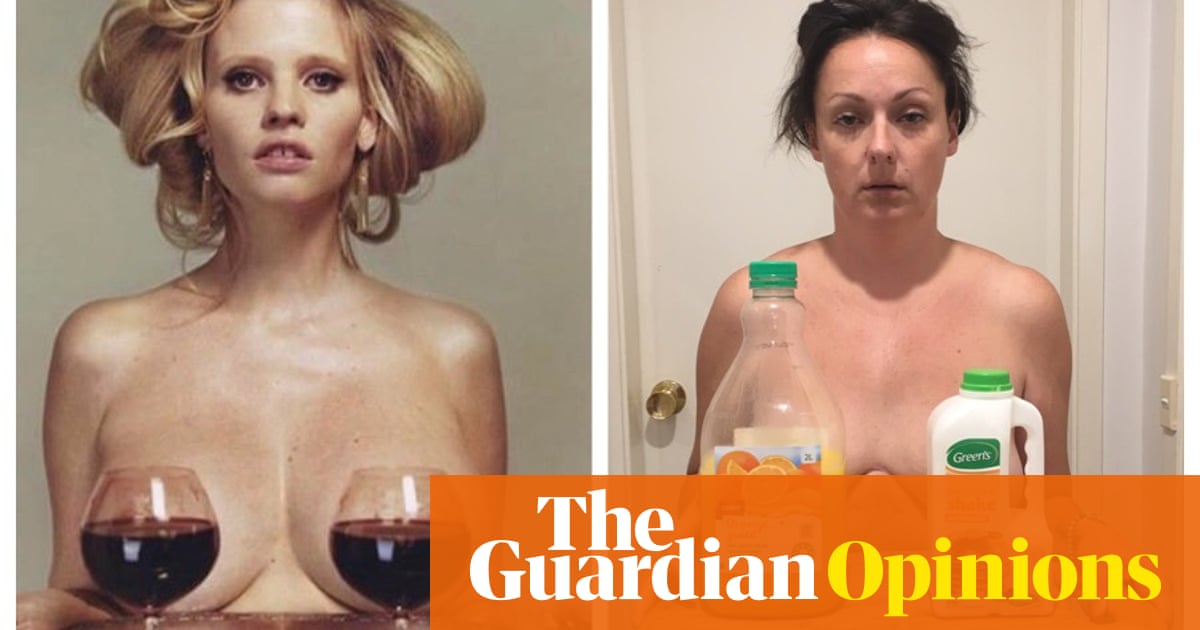 I always end up feeling like shit when I look at Instagram, said Selena Gomez, who has 133 million Instagram followers, when she was interviewed by Vogue last year.
Selena. Freakin. Gomez.
Of course, shes not the only one. In 2017, the UKs Royal Society for Public Health released a survey of 1,479 young people analysed on their attitudes to social media and found that Instagram, where personal photos take centre stage, received the worst scores for body image and anxiety.
Instagram easily makes girls and women feel as if their bodies arent good enough, admitted a respondent.
But blaming social media for womens poor body image is easy. Harder to face is that Instagram is just the latest platform for the insidious syndrome of relentless body-hating our culture encourages in women. On this subject, a Glosswitch piece in the New Statesman exhorted feminists to remember the analysis in older tracts like Susie Orbachs Fat is a Feminist Issue and Naomi Wolfs The Beauty Myth, that oppression was structural and bodies were real.
Once upon a time, we may have been angry about this, she despaired.
Is feminism failing in the fight for the female body? The $160bn global beauty industry is growing at up to 7% a year, more than twice the rate of the developed worlds GDP.
My own belief is that its hard to escape a cage with a shape that keeps changing. Feminism may have accepted Naomi Wolfs 1990 dictum that dieting is the most potent political sedative in womens history but in 2018 #cleaneating and #fitspo dont admit to being diet cults, even 37m or 54m Instagram posts later. In her latest book, Natural Causes, Barbara Ehrenrich criticises the recent paradigm shift in which now, health is indistinguishable from virtue. The last decade has witnessed the emergence of orthorexia an eating disorder in which a fixation for healthy eating is what causes one harm.
However the propaganda message redesigns itself, we cant we must not abandon a feminist imperative to own our bodies as sites of our unconditional love.
Its an activist mission thats inspired Grace Ritter to declare Weigh Free May. The 24-year-old student from Perth is now in recovery from an eating disorder that dominated her life for 10 years. Shes created a website and Facebook group, encouraging others to let go of obsessive, aesthetic self-assessment for just one month.
Her campaign requires no donation, there are no events beyond your own commitment: I just wanted to start up a way to get people talking and thinking about ways they could be valuable and things they could do, she says, that werent about shrinking themselves.
Grace, I am so in. And in the belief that bodily comfort is a feminist act, Id thought Id share my own super scientific recommendations for simple ways to celebrate your body in a weigh-free May.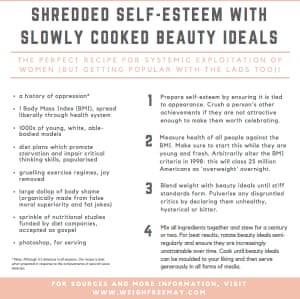 Read more: https://www.theguardian.com/commentisfree/2018/apr/13/eight-feminist-ways-to-love-your-body-without-even-leaving-the-house